(For free sample resume and CV template download, scroll to the bottom.)
Golden Tips for writing a resume
Remember two main things all the time while making a resume:
"You never get a second chance to make a first impression?"
&
"Average resume viewing time is 20 seconds"
Resume Tip 1: Spell Check and "Reality Check"
Before you submit your resume, make sure you give it a spell check using your word processing software. After you spell check it, have someone else give it a quick "reality check" to make sure that the spell checker didn't miss anything and to make sure that you didn't make a mistake that your computer can't catch. It is important that you get a second set of eyes to look over the document that could be responsible for your next job.
Resume Tip 2: Not Too Long, But Not Too Short
How long should your resume be? This is always a tough call. Some experts believe a one page resume is the perfect length.
Again, there are two choices.
Either you make a one page resume with a great format and only good details.
Or make it two pages, with separate most important job applicable point on second page in detail. For example, a fresher can list the projects undertaken on second page.
Resume Tip 3: Formatting Counts
Have 2 versions of your resume available. One to be viewed online (pdf is preferred), and one to be handed out at in-person interviews and job fairs.
NEVER USE Fancy fonts, lines, boxes and bullet points
because it will not work on most computers.
The trick is to use
Universal fonts only.
Universal fonts are those fonts which are available on all computers.
Here is the list of only fonts you should use:
(Font name in windows, Font name in Mac, Font-Family name)
Arial,

Arial, Helvetica

, sans-serif


Arial Black,

Arial Black, Gadget

, sans-serif


Comic Sans MS,

Comic Sans MS

, cursive


Courier New,

Courier New

, monospace


Georgia,

Georgia

, serif


Impact,

Impact, Charcoal

, sans-serif


Lucida Console,

Monaco

, monospace


Lucida Sans Unicode,

Lucida Grande

, sans-serif


Palatino Linotype, Book Antiqua,

Palatino

, serif


Tahoma,

Geneva

, sans-serif


Times New Roman,

Times New Roman, Times

, serif


Trebuchet MS,

Trebuchet MS

, sans-serif


Verdana,

Verdana, Geneva

, sans-serif
Anything you send or submit online should have very basic formatting (spacing and paragraph breaks, for example).
Resume Tip 4: Keywords are
Nowadays all systems are automated. All resumes are stored in the database. When an employer searches a database, they use keywords. In general, they expect the results to be representative of what they are searching for. This should mean a couple of things to the resume writer:
Include relevant keywords in your resume, because this is how you will be found.
Don't stuff your resume with keywords that are not relevant of your experience. A list of keywords that do not represent your expertise should be avoided.
Some general keyword examples:
Ability to ... (delegate, supervise, etc.), analytical ability, detail oriented, problem solving, results oriented, communication skills, team leader, lead
Some technology industry examples:
Software, systems, UNIX, Linux, SQL, Oracle, java, .NET, Operating System, CAD, Mechanical systems, Design, OO Programming, SDLC, coded, programmed, administered, engineer, programmer, developer, network, Cisco, Microsoft
In the end make your resume visible by publishing it in right places.
_________________
Minimalist Resume
What is a minimalist resume?
The term
minimalism
is also used to describe a trend in design and architecture where in the subject is reduced to its necessary elements.
A minimalist resume has lot of white space and its design has neat and straight components.
It is very effective resume for an engineering professional, due to two main reasons.
a.) The field often demands engineering of products at minimum possible resources spent or used. A minimal resume indicates the attitude, approach & aesthetics of engineer/programmer towards simplicity. Hence, it often acts as an occam's razor.
b.) Due to white space the direct impact is on the text. The art of typography is often used. Thus the interviewer's attention is drawn straight to the context matter.
Following is an example of a minimalist resume. It is mostly used when the applicant has too much to write. However, freshers also use this resume, which can be seen in second example below.
Chris Smith
123 Main Street • Hometown, MS 00000 • (123) 456-7890 •
ChrisSmith@company.tld
This e-mail address is being protected from spambots. You need JavaScript enabled to view it
OBJECTIVE
Systems Engineer / Database Administrator / Call Center Administrator seeking position where wealth and diversity of knowledge will be fully utilized.

QUALIFICATION HIGHLIGHTS
Technical Skills

Develop and maintain LAN/WAN, Internet, and wireless communication networks.
Install, configure, administer, and troubleshoot Windows server and operating systems.
Proven proficiency in TCP/IP, IPX, SPX, and NETBEUI networking protocols.
Properly apply coding in C, Visual C, and Pascal computer languages.
Design telecommunication networks and execute development plans.
Plan and implement networks using hubs, routers, switches and other networking hardware and software.
Management and Team Leadership

Plan and conduct sales meetings and training sessions to improve sales team proficiency and product knowledge and improve motivation.
Set and consistently achieve sales goals by applying excellent account management techniques.
Analyze and interpret market trends, demographics, and psychographics and utilize knowledge to expand target market.
PROFESSIONAL EXPERIENCE
XYZ Tech Support, Inc.
Network Product Specialist, 2002 - present

Install, configure, administer, and troubleshoot Dlink devices, including broadband/wireless (802.11 a/b/b+) routers, access points, wireless network cards, Ethernet cards, and multimedia devices.
ABC Technology Systems (1992 - 2002)
Telecom BG Manager, 2000 - 2002

Maintained responsibility for managing and directing activities of both sales and customer support groups, ensuring highest levels of client satisfaction and achievement of organizational goals.
Sales Manager, 1997 - 2000

Consistently exceeded revenue targets through excellent account management, interpersonal skills, and evaluation of client needs.
Senior Sales Engineer, 1994 - 1997

Designed and effectively marketed high-end network systems.
Sales Engineer, 1992 - 1994

Marketed and sold small and medium capacity PBX systems in a B2B environment.
EDUCATION
Graduate of Computer Education Institute - 2003
Earned MCSE and MCDBA Certifications

Professional Certificate in Information Technology - 2001
American University

TECHNICAL CERTIFICATIONS
Microsoft Certified System Engineer (MCSE); Microsoft Certified Data Base Administrator (MCDBA); Microsoft Certified Professional (MCP); Professional Certificate in Information Technology (AUC); Call Center Technologies Certificate (Lucent Technologies)
Also if you are a fresher and want to use a minimalist resume, and you don't have much to write, concentrate on your skills. Your positive traits towards your first hiring. For example see below.
Chris Smith
123 Main Street • Hometown, MS 00000 • (123) 456-7890 •
ChrisSmith@company.tld
This e-mail address is being protected from spambots. You need JavaScript enabled to view it
OBJECTIVE
Position as Software Engineer or Computer Programmer with growing company.

QUALIFICATION HIGHLIGHTS
Energetic, analytical professional with excellent development and programming skills and more than 10 years of combined experience, seeking opportunity to hone and grow in chosen field
Java Programming, Analysis & Troubleshooting, Algorithm Development, Problem Resolution, Team Building, Leadership
Analyze information to determine, recommend, and plan installation and modification of software system.
Confer with data processing and project managers to obtain information on specification for data projects.
Consult with engineering staff to evaluate interface between hardware and software, develop specifications and performance requirements and resolve customer problems.
Design, develop, test and implement software systems, using scientific analysis and mathematical models.
Develop and implement software system testing and validation procedures.
Direct software programming and documentation development.
Evaluate reporting formats required, cost constraints, security restrictions to determine hardware configuration.
RELATED EXPERIENCE
ABC Technologies
QUALITY ASSURANCE ANALYST, 5/2007 - present

Test for accuracy, bugs and usability, for a medical books/journals website.
Check journal content using reports and the SGML to compare against the journal ensuring the content is accurate.
TEAM LEADER, Final Project, 2007

Led team that developed client-server learning program.
Supported design using UML (Unified Modeling Language).
Supported design of SQL Server Database.
Developed Database access procedures for the client side in ADO.NET.
Authored and tested SQL queries.
PROFESSIONAL EXPERIENCE
ROUTE LOGISTICS, Standard Examiner, 2003 - 2007
MATERIALS HANDLER, Frito-Lay, 1997 - 2003
TEAM LEADER, United States Marine Corps Reserve, 1994 - 1997

EDUCATION / CERTIFICATION
B.S. in Computer Science - Software Engineering emphasis - 2007
State University, Overall GPA: 3.49
Pursuing Java Web Component Certification - Java Programmer Certification

COMPUTER SKILLS
Applications: Visio, Excel, Word, PowerPoint
Software Development: VisualStudio .net
Languages: Java, ODBC, JSP, ADO.net, ASP.net, HTML, C#, SGML, UML, C++, Visual Basic.
Operating Systems: Windows, UNIX
Databases: Oracle, SQL Server, and MS Access
__________________
Some beautiful resumes
download link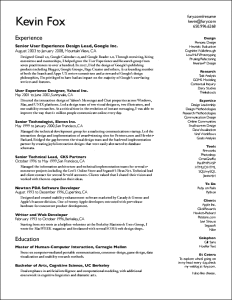 Download link